ASBESTOS REMOVAL BY ABC ENVIRONMENTAL
What is ASBESTOS? 
Long sought after for its excellent heat resistance, versatility, strength, and affordability,  asbestos started becoming increasingly popular during the 19th century, but it soon became apparent that it was causing a multitude of health problems.
Asbestos exposure can lead to mesothelioma and other asbestos-related cancers. Asbestos use was finally banned in the United States in 1978. However, builders and manufacturers were still allowed to use the rest of their supply, meaning homes built as late as 1986 may still contain asbestos.
In the United States, reports show that up to 30 million homes and commercial buildings consist of some form of asbestos-containing material. Only a licensed professional can test for asbestos and assess whether or not removal is safe and necessary. There are strict federal and state guidelines that need to be followed for the handling, removal and disposal of asbestos. ​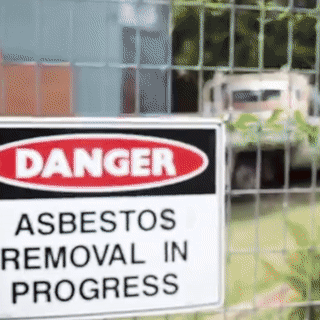 We are a Certified Asbestos Handler in New York, New Jersey & Florida Area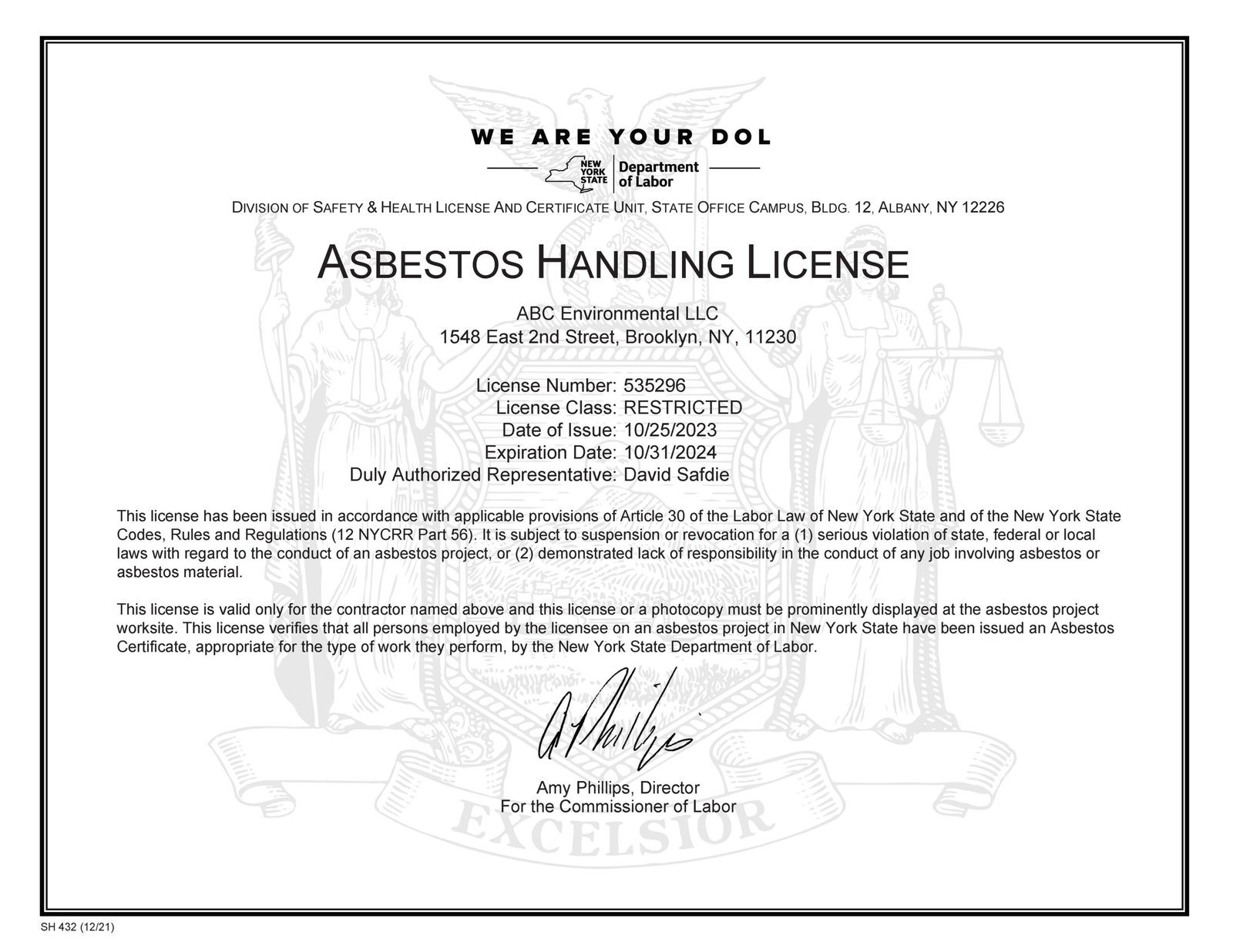 We have also partnered with AI & I Links Inc. for the most proficient and safe Asbestos Abatement process as they bring a team of certified and skilled Asbestos Professionals on board.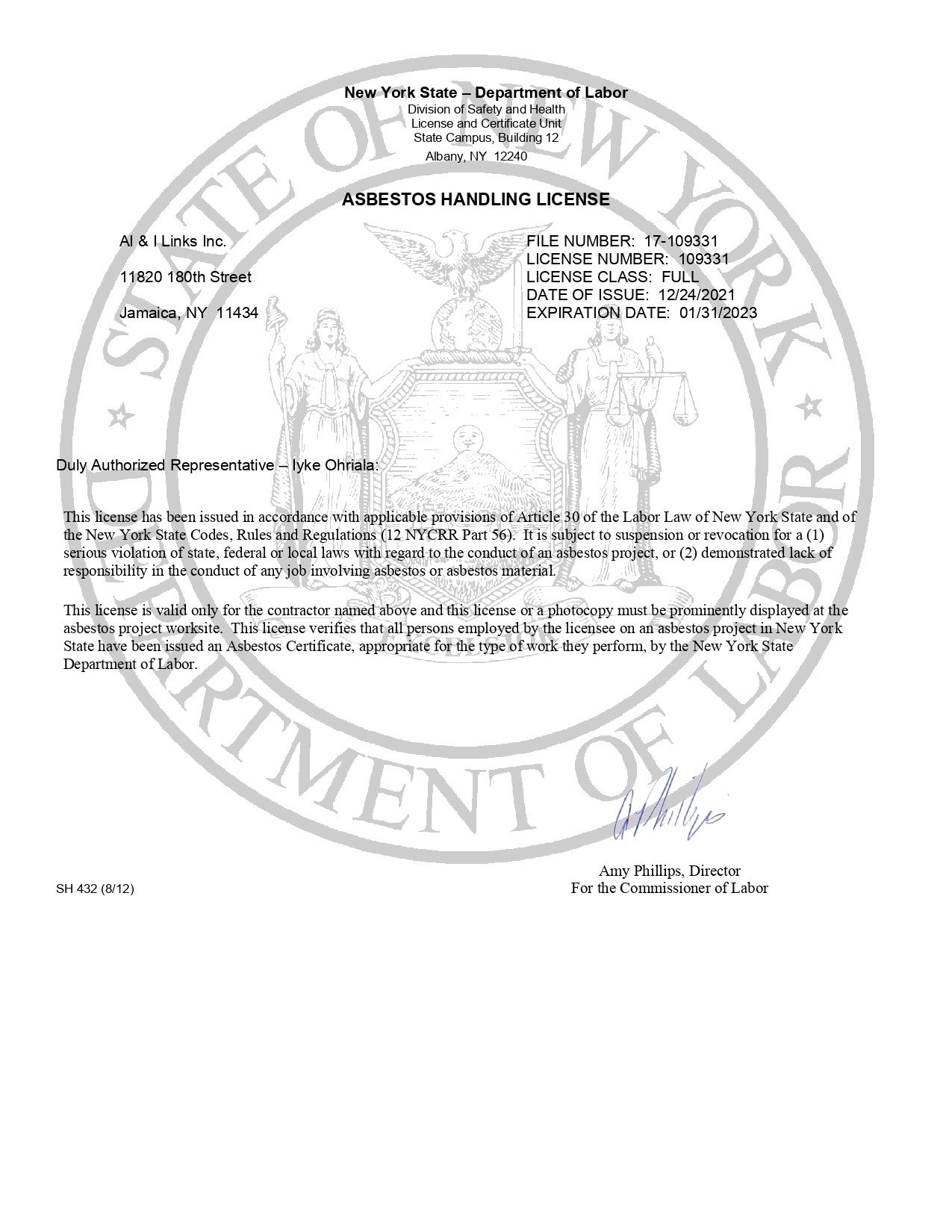 ABC Environmental LLC is your trusted partner for asbestos testing and removal services in the New York City (NYC) and New Jersey (NJ) areas. With a proven track record and a team of certified experts, we are committed to ensuring the safety and well-being of our community by providing top-notch asbestos solutions. Whether you're located in Brooklyn, Bronx, Manhattan, Queens, Staten Island, Long Island, or anywhere in New Jersey, we've got you covered.
Our Services:
1. Asbestos Testing NYC and NJ
: Our certified asbestos inspectors use state-of-the-art equipment to conduct thorough asbestos testing in your residential or commercial property. We adhere to strict industry standards, ensuring accurate results. Whether you suspect asbestos in your building or need regular testing for compliance, we have the expertise to deliver reliable results.
2. Asbestos Removal NYC and NJ
: Asbestos removal is a delicate process that requires professional expertise. ABC Environmental LLC has a team of licensed asbestos removal specialists who follow all safety regulations during the removal process. We prioritize safety, and our comprehensive removal services will ensure your property is asbestos-free.
3. Asbestos Abatement NYC and NJ
: Asbestos abatement involves controlling the release of asbestos fibers to prevent exposure. We implement effective abatement techniques, such as encapsulation and enclosure, to ensure the asbestos is managed safely and securely. Trust us for thorough asbestos abatement services in NYC and NJ.
Why Choose ABC Environmental LLC?
1. Certified Experts
: Our team comprises certified asbestos professionals who are well-versed in industry best practices. We prioritize safety and compliance, ensuring your peace of mind.
2. Advanced Equipment
: We invest in cutting-edge equipment for accurate asbestos testing and efficient removal. Our technology ensures thorough and precise results.
3. Local Coverage
: We serve Brooklyn, Bronx, Manhattan, Queens, Staten Island, Long Island, and the entire New Jersey area, making us your local asbestos removal experts.
4. Compliance Assurance: We strictly adhere to all local and federal regulations regarding asbestos testing and removal, guaranteeing a hassle-free process for our clients.
5. Customer-Centric Approach
: Your safety is our priority. We tailor our services to meet your specific needs, and our customer support team is always ready to address your concerns.
Contact ABC Environmental LLC Today! or Book your Asbestos Services here.
When it comes to asbestos testing and removal in NYC and NJ, trust the experts at ABC Environmental LLC. We are your reliable partner in ensuring a safe and asbestos-free environment. Contact us today for a consultation or to schedule our services. Say goodbye to asbestos worries with ABC Environmental LLC by your side.
Asbestos can be found in many areas of buildings and homes such as:
Paint

Flooring

Roofing, shingles

Tiles

Pipes

Furnaces

Gaskets

Wall insulation
Exposure to asbestos can increase the risk of developing
Asbestosis, which causes permanent lung damage.

Mesothelioma, a rare cancer of the chest and stomach lining.

Cancer of the gastrointestinal tract, kidney and throat (larynx or oropharynx).

Scarring of the lung lining.
Pleural effusions, when fluid collects around the lungs.
ASBESTOS REMOVAL Procedure by ABC Environmental LLC
There are strict state and federal guidelines that must be adhered to for safe asbestos removal. The federal government offers training courses for licensed professionals to perform the following steps:
The area is sealed off typically with plastic sheeting to keep fibers from getting into other areas. Taped seals are double checked to make sure that fibers cannot escape.

HEPA air filters are placed in the work area and clean air exhaust ducts are installed outside of the area. The HEPA filters clean the air within the work area, while the exhaust ducts clean the air just outside while trapping any stray fibers that may have escaped.

Workers are instructed to wear a protective suit and respirators while removing asbestos material.

The work area is tightly secured. When asbestos removal begins unauthorized individuals may not enter the work space.

In-progress inspections are performed to ensure that all asbestos materials were completely removed. Asbestos materials are place in double plastic bags 6 mil thick.

After removal is complete, the work area is cleaned with HEPA vacuums and wiped down.