LEAD REMOVAL BY ABC ENVIRONMENTAL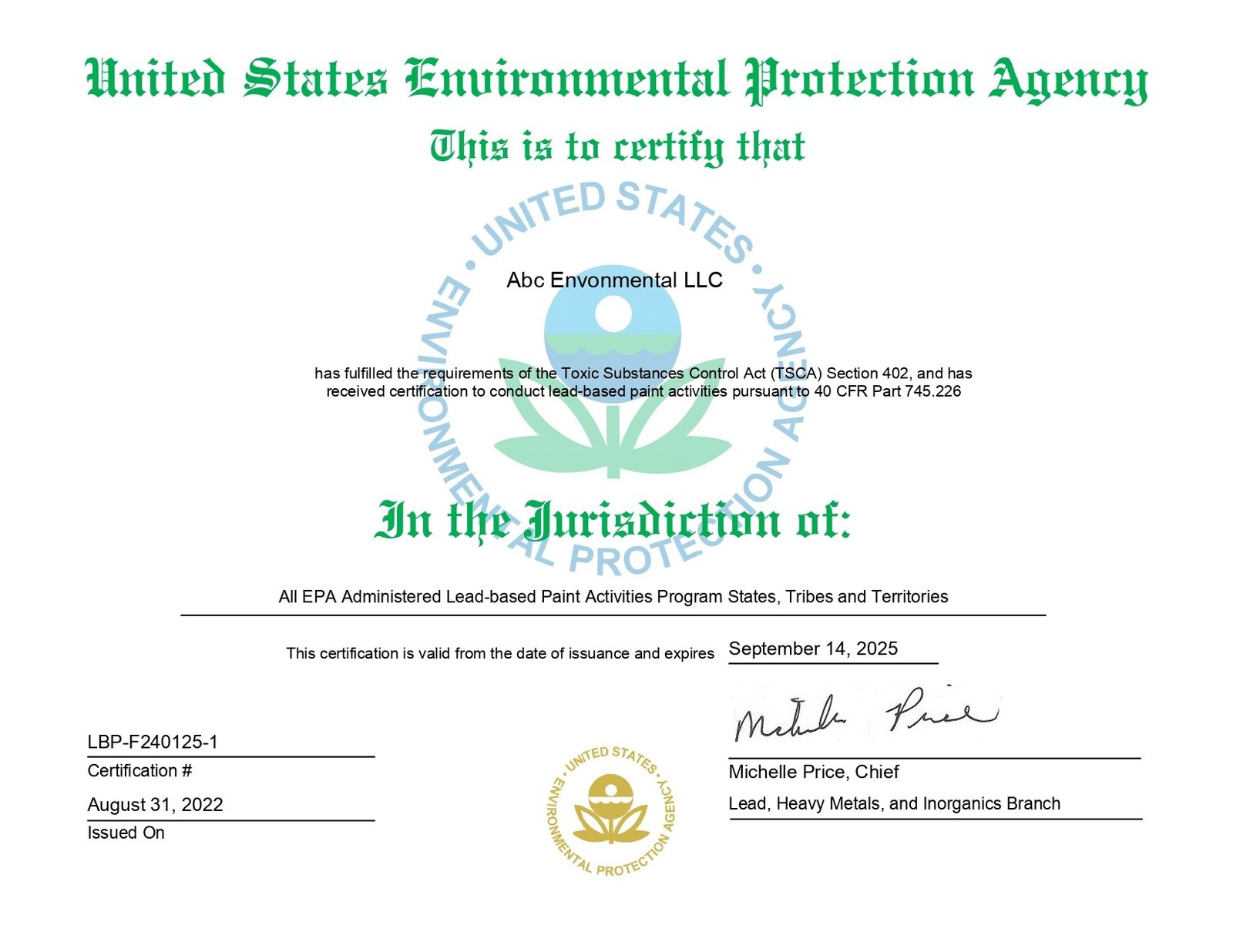 At ABC Environmental LLC, we are dedicated to ensuring the safety and well-being of our community by offering top-notch lead-related services. With years of experience in the industry, we have earned a reputation for excellence, reliability, and a commitment to environmental health.
Our Lead Removal Services:
1. Lead Abatement:
Lead exposure is a serious concern, especially in older buildings. Our team of certified professionals is equipped with the knowledge and expertise to safely remove lead-based hazards from your property. We follow stringent protocols and use state-of-the-art equipment to ensure your space is lead-free.
2.Lead Paint Removal: Lead-based paint is a common hazard in older homes and commercial buildings. ABC Environmental LLC specializes in the safe and efficient removal of lead paint, mitigating the risks associated with lead exposure. We adhere to strict industry standards to provide you with a lead-free environment.
3.XRF Testing:
XRF (X-ray fluorescence) testing is a non-invasive method for accurately detecting the presence of lead in various materials. Our certified technicians use cutting-edge XRF technology to quickly and precisely assess lead levels, helping you make informed decisions regarding lead remediation.
Why Choose ABC Environmental LLC:
Expertise: Our team consists of certified professionals who are well-versed in lead abatement, lead paint removal, and XRF testing. We stay up-to-date with the latest industry practices to provide you with the best service possible.
Safety: Your safety is our top priority. We strictly adhere to safety protocols to ensure that our services are carried out without any health risks.
Compliance: We follow all federal, state, and local regulations regarding lead-based hazards. You can trust us to handle all necessary permits and paperwork.
Environmentally Conscious: We are committed to environmentally friendly practices. We dispose of hazardous materials responsibly and take steps to minimize our environmental impact.
Customer Satisfaction: Our goal is to exceed your expectations. We work closely with our clients to tailor our services to their specific needs, ensuring complete satisfaction.
Service Areas:
We proudly serve Brooklyn, Bronx, Manhattan, Queens, and Staten Island, bringing our expertise in lead abatement, lead paint removal, and XRF testing to properties throughout these boroughs.
For any inquiries or to schedule a consultation, please feel free to contact us today. Your safety and the safety of your community are our priorities, and we look forward to assisting you with all your lead-related needs.
It does not matter if a person breathes-in, swallows, or absorbs lead particles, the health effects are the same; however, the body absorbs higher levels of lead when it is breathed in.
Health effects from short-term overexposure to lead
Lead poisoning can happen if a person is exposed to very high levels of lead over a short period of time. When this happens, a person may feel:
Abdominal pain

Constipated

Tired

Headachy

Irritable

Loss of appetite

Memory loss

Pain or tingling in the hands and/or feet

Weak
Lead can cross the placental barrier, which means pregnant women who are exposed to lead also expose their unborn children. Lead can damage a developing baby's nervous system. Even low-level lead exposures in developing babies have been found to affect behaviour and intelligence. Lead exposure can cause miscarriage, stillbirths, and infertility (in both men and women).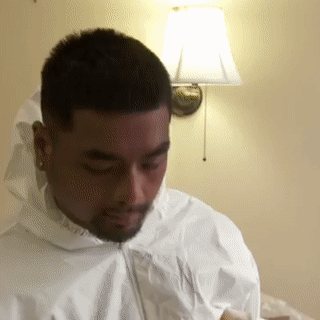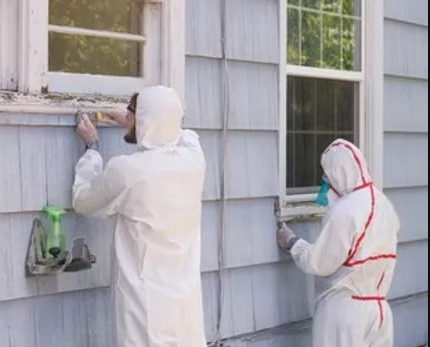 Lead in paint:
Lead-based paints for homes, children's toys and household furniture have been banned in the United States since 1978. But lead-based paint is still on walls and woodwork in many older homes and apartments. Most lead poisoning in children results from eating chips of deteriorating lead-based paint.
Water pipes and imported canned goods:
Lead pipes, brass plumbing fixtures and copper pipes soldered with lead can release lead particles into tap water. Lead solder in food cans, banned in the United States, is still used in some countries.
Soil:
Lead particles from leaded gasoline or paint settle on soil and can last years. Lead-contaminated soil is still a major problem around highways and in some urban settings. Some soil close to walls of older houses contains lead.
Household dust : Household dust can contain lead from lead paint chips or from contaminated soil brought in from outside

Pottery : Glazes found on some ceramics china and porcelain can contain lead that can leach into food served or stored in the pottery.

Toys : Lead is sometimes found in toys and other products produced abroad.